About the National Center for Public Policy Research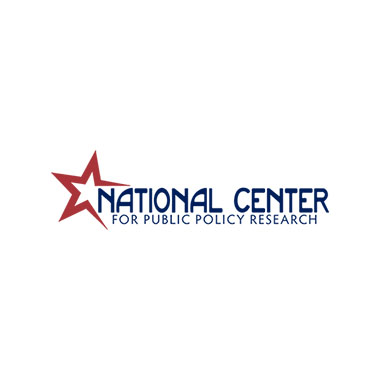 The National Center for Public Policy Research (NCPPR) was established in 1982 to address issues insufficiently addressed by the broader Freedom Movement. It is a nimble and dynamic organization dedicated to providing free market solutions to today's public policy problems through innovative programs. The National Center's programs advance the principles of free markets, individual liberty and personal responsibility. Its largest programs are the Free Enterprise Project, the leading shareholder activist group on the right which confronts woke corporations and the ESG agenda; and Project 21, a black leadership network drawing its membership from academia, law enforcement, small business, the media and other fields. Project 21 leads the fight against radical groups such as Black Lives Matter that seek to divide Americans along racial lines. Another National Center program is the Environment and Enterprise Institute, which advances free market solutions to environmental problems.
About the Development Associate Opening
The National Center is seeking a self-motivated, detail-oriented, process/system-driven team member to serve as our Development Associate. This new team member will focus the majority of their efforts on managing the details and systems necessary to keep the National Center's growing development team executing its development strategy with excellence and efficiency.
This is an ideal opportunity for a detail-oriented person to use their administrative and analytical skills to help advance the Freedom Movement by enabling the National Center to raise additional funds and provide a world-class donor experience.
The right person will have a track record of working with sensitive information, processing mail, entering data, and coordinating highly detailed time-sensitive projects. The candidate will have a demonstrated ability to utilize and optimize CRMs such as Salesforce and project management platforms such as Basecamp.
The candidate will be able to identify challenges/opportunities — areas to increase accuracy and efficiency and proactively take initiative to provide (and act on) solutions-based ideas. The candidate will also have a demonstrated ability to facilitate communication flow across a team(s) and ensure there is always a proper flow of information necessary for the success of a highly dynamic, high-functioning development team.
This position requires someone who understands and believes in the Freedom Movement and the National Center's mission and who wants to use their administrative and communication skills to advance the ideas of freedom.
This position will also serve as the in-office liaison for the Director of Strategic Partnerships to ensure that daily information flow needs are met to ensure everyone stays aligned around organization and team objectives and goals.
This position is based in NCPPR's Washington, DC office, located near the Dupont Circle Metro Station. Remote candidates will not be considered.

Key Responsibilities
Operational Support and Data Management (60%)
Receive, open and process all development-related mail, including individual contributions, according to Standard Operating Procedures (and update operating procedures as needed)
Manage gift entry, credit card processing, and CRM reports for the acknowledgment process
Provide administrative (including scheduling) support to Director of Strategic Partnerships and Development team on a regular basis, helping ensure deadlines are met and systems are optimized
Regularly monitor accuracy of Salesforce database, conducting data clean-up, and implement best practices to ensure data integrity (including utilizing data appends) and ensuring all relevant information is imputed into database
Donor Relations (20%)
Conduct donor research on a regular basis and produce donor profiles for Major Gift Officers (utilizing DonorSearch and other tools)
Implement and manage a process to cultivate first-time prospect donors to increase the likelihood of NCPPR receiving a second gift, and convert them to long-term donors, with input from Director of Strategic Partnerships and Development Specialist
Oversee gift acknowledgment below $250 and print, fold, and mail all donor acknowledgment letters and manage other smaller mailings conducted internally
Relationship Management (20%)
Work with mail house(s) on direct mail campaigns: organizing files, handling list pull, and segmentation, list exchanges — with support from Director of Strategic Partnerships and Development Specialist
Develop strong working relationships with program heads to effectively engage with them related to development efforts related to their program activities
Coordinate as needed with the Center

'

s communications and program teams
Qualifications:
1-2 years of development / fundraising or administrative experience. Substantive internships may count toward experience.

Ability to prioritize and manage multiple activities to ensure alignment with team/organization goals and objectives, while maintaining a high level of attention to detail and follow-through

Proficiency with Salesforce, Hubspot, or other CRM platforms

Passion for limited government, free enterprise and personal responsibility

Self-starter and impeccable work ethic

Strong written and verbal communication skills

Results-oriented approach to setting priorities and managing time

Rapid response to team & organizational needs

Humble, innovative, open communicator

Consistent—Able to stick with the regular disciplines and activities necessary to ensure deadlines are met and that NCPPR donors receive a world-class experience

Teachable, fast-learner, enthusiastic team member — open to regular feedback and working hard while having fun

Database and project management experience a plus
How to Apply
Qualified candidates should submit the following application materials in one PDF document:
Resume

Cover Letter detailing your interest in the position, NCPPR

'

s mission, and your salary requirements
Applications should be submitted to Talent Market via this link: talentmarket.org/apply-for-your-dream-job/.
There is no application deadline for this position. Applications are accepted on a rolling basis. This job will remain posted on our site until it is filled.
Questions can be directed to Stephanie Keaveney, Outreach Manager of Talent Market, who is assisting with the search: [email protected].
While we thank all applicants in advance for their interest in this position, we are only able to contact those to whom we can offer an interview. Only direct applications will be considered. No phone calls, please.
Talent Market is a nonprofit entity dedicated to promoting liberty by helping free-market nonprofits identify talent for critical roles. We provide consulting and recruiting services at no cost to 501(c)3 nonprofit organizations that clearly and directly focus on advancing the principles of economic freedom, free enterprise, free trade, free speech, property rights, rule of law, and limited regulation.