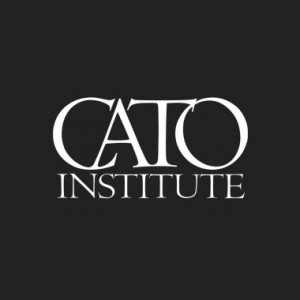 About the Cato Institute
The Cato Institute is a public policy research organization – a think tank – dedicated to the principles of individual liberty, limited government, free markets, and peace. Its scholars and analysts conduct independent, nonpartisan research on a wide range of policy issues.
Founded in 1977, Cato owes its name to Cato's Letters, a series of essays published in 18th-century England that presented a vision of a society free from excessive government power. Those essays inspired the architects of the American Revolution. And the simple, timeless principles of that revolution – individual liberty, limited government, and free markets – turn out to be even more powerful in today's world of global markets and unprecedented access to information than Jefferson or Madison could have imagined. Social and economic freedom is not just the best policy for a free people, it is the indispensable framework for the future.
Cato Institute is an Equal Opportunity Employer.
About the Role
The Cato Institute seeks a visionary Managing Editor/Senior Writer to lead the editorial content strategy and production of Cato's new quarterly magazine. This is an exciting opportunity for a talented editor and writer with experience working on a fast-paced editorial team to guide the launch and manage the execution of a showcase publication for a leading libertarian think tank. 
The Managing Editor/Senior Writer will develop an editorial process to ensure a steady stream of high-quality storytelling, news and feature articles, photos, and artwork for Cato's magazine in both print and digital formats. The Managing Editor/Senior Writer will also produce development reports—including the Annual Report—and other materials to raise awareness of Cato's work, mission, and programs to a mass audience of more than 150,000 current and prospective donors, policymakers, media and business leaders, and the general public.
This position oversees the production of Cato's magazine, liaising with Cato's in-house design and web teams to ensure timely delivery of a first-class print and digital product. They are responsible for the tone, style, accuracy, and credibility of communications designed to reach Cato donors and other varied audiences across the country.
The ideal candidate will have at least five years of experience as a reporter, writer, or communications professional. Applicants should have strong journalistic instincts and writing ability, impeccable attention to detail, the ability to prioritize multiple tasks and meet competing deadlines, an affinity for Cato's mission, and a commitment to the libertarian principles of liberty and limited government. The Managing Editor/Senior Writer is a critical part of Cato's fundraising team, responsible for effectively communicating Cato's impact, increasing stewardship efforts of Cato's donors, and ultimately driving fundraising revenue. 
This is a full-time position based in Washington, DC and will report to the Director of Development Communications. The Institute is currently offering a hybrid remote work schedule.
Responsibilities
Assists with the launch and oversees the production of Cato's quarterly magazine in both print and digital formats, driving editorial strategy and producing high-quality articles and other content that bring Cato's work and mission to life.
Serves as primary writer for Cato's magazine, Annual Report, and other marketing materials and publications as needed.

 

Works closely with Director of Development Communications and senior policy staff to advise and coordinate editorial content strategy for Cato's magazine.

Acts as managing editor of the magazine, generating story ideas, writing and coordinating production of articles and feature stories, liaising with Cato's web and design teams to ensure timely delivery of the magazine in print and digital formats, and assisting with supervision of magazine staff including, when appropriate, freelance writers, designers, and photographers.

Responsible for developing and maintaining high ethical and quality standards for Cato's magazine, Annual Report, and other development products.

Collaborates on marketing campaigns, report launches, and donor communications as needed.

Monitors Cato's publications, social media, events, websites, and other sources for relevant and timely stories related to our work; maintains awareness of peer organizations' work and content.

Leads and executes innovative distribution plan for ensuring Cato's magazine, Annual Report, and other publications reach the largest audience possible, both in print and online.
Writes digital campaigns, emails, and social media posts as needed.
Requirements
5+ years of experience as a reporter, writer, or communications professional.
Experience in fast-paced editorial, publishing, or newsroom environment.
Proven success in providing editorial guidance and leadership, coordinating a high-level publication, and raising the profile of a national organization through its communications efforts.
Ability to negotiate and coordinate projects across multiple teams to deliver a timely, high-quality product.

Experience coordinating the production of leading-edge print and digital products, including artwork, photography, video, and multimedia.

Website content management experience preferred.

Detail-oriented and extremely well-organized, with ability to manage multiple tasks.

Ability to translate research findings and scholarly work into digestible, accessible, and engaging copy and print/digital visualizations.

 

Bachelor's degree in communications, journalism, or related field.
Familiarity with, and an appreciation for, libertarian principles.
How to Apply
Qualified candidates should submit the following application materials in one PDF document:
Cover letter detailing your alignment with Cato's mission, how your experience has prepared you for this position, and your salary requirements

Résumé

Writing sample (no more than 3 pages)
Applications should be submitted to Talent Market via this link: https://talentmarket.org/candidates/apply-for-your-dream-job/
Questions can be directed to Lydia Ocampo, Network Engagement Specialist, who is assisting with the search: [email protected]
There is no application deadline for this position. Applications are accepted on a rolling basis.
This job will remain posted on our site until it is filled. Only direct applications will be considered. No phone calls, please.
Talent Market is a nonprofit entity dedicated to promoting liberty by helping free-market nonprofits identify talent for critical roles. We provide free consulting and recruiting services to free-market think tanks, policy organizations, research centers, and capacity-building institutions dedicated to advancing the principles of limited government and free enterprise.