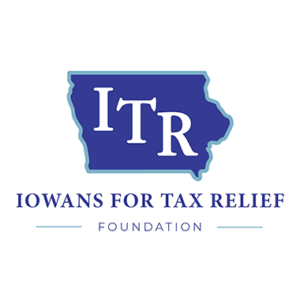 Iowans for Tax Relief Foundation (ITRF), a pro-growth, free-market think tank, is looking for a Community Engagement Coordinator to bolster outreach to citizens across Iowa. ITRF has spent 40 years fostering an environment of opportunity in Iowa by advocating for limited government, enabling tax cuts, and introducing other conservative initiatives. We need you to help build on this progress, especially at the local level.
The Community Engagement Coordinator will play a pivotal role in representing ITR Local, a new initiative aiming to slow property tax growth and rally citizen activists for free-market policies. The Coordinator will identify potential allies, build taxpayer coalitions, manage events, liaise between ITRF and local activists, and assist with communications.
The Community Engagement Coordinator will work out of ITRF's office in West Des Moines, Iowa, and report directly to the ITRF President. Work-day travel across Iowa will be approximately 50-75% of the time, with evening and weekend events as required. ITRF will provide a car for the business travel, as well as a gas card and reimbursement for personal expenses.
The ideal candidate will have a demonstrated gift for building meaningful relationships. He or she must possess an entrepreneurial spirit, work at a high velocity, possess compassion and empathy, and be results-oriented and optimistic. We believe the ideal candidate will have 1-3 years of related experience. However, candidates with more extensive experience are encouraged to apply and may be considered for a more advanced position on a case-by-case basis.
ITRF is seeking a candidate who is eager to develop their skills and grow within ITRF or the larger free-market movement. We are committed to supporting your professional development and helping you find opportunities for growth.
Responsibilities:
Identify and engage with Iowans impacted by governmental burdens seeking change through limited government principles.
Build coalitions of like-minded stakeholders across the state.
Act as a liaison between engaged citizens, internal staff, and external audiences.
Organize networking opportunities, events, and speaking engagements to promote ITRF's message.
Collaborate with ITRF's policy team on coalition strategies.
Develop a young professionals advisory board and outreach program.
Assist in managing social media and other overlapping communications and outreach tasks.
Qualifications:
1-3+ years of outreach, campaign, coalition-building, or business development experience, with knowledge of how to build meaningful relationships
Passion for ITRF's mission and affinity for liberty and free market principles
Ability to travel across the state approximately 50-70% of the time
Excellent written and oral communication skills; strong ethical focus
Outgoing, dynamic, charismatic personality with an independent work ethic
Understanding of public policy and knowledge of political processes
Understanding of or experience in political campaigns is a plus
Proficiency with Salesforce or other CRM platforms is a plus
How to Apply
Qualified candidates should submit the following application materials in one PDF document:
Resume
Cover Letter detailing your interest in the position, ITRF's mission, and your salary requirements
Applications should be submitted to Talent Market via this link: talentmarket.org/apply-for-your-dream-job/.
Questions can be directed to Stephanie Keaveney, Senior Manager of Outreach at Talent Market, who is assisting with the search: [email protected].
There is no application deadline for this position. Applications are accepted on a rolling basis. This job will remain posted on our site until it is filled.
While we thank all applicants in advance for their interest in this position, we are only able to contact those to whom we can offer an interview. Only direct applications will be considered. No phone calls, please.
Talent Market is a nonprofit entity dedicated to promoting liberty by helping free-market nonprofits identify talent for critical roles. We provide consulting and recruiting services at no cost to 501(c)3 nonprofit organizations that clearly and directly focus on advancing the principles of economic freedom, free enterprise, free trade, free speech, property rights, rule of law, and limited regulation.