About Reason Foundation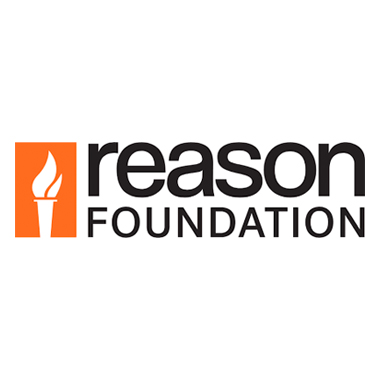 Reason Foundation advances a free society by developing, applying, and promoting libertarian principles, including individual liberty, free markets, and the rule of law.
Reason Foundation produces respected, nonpartisan public policy research on a variety of issues. Founded in 1968, Reason is the magazine of free minds and free markets, producing hard-hitting independent journalism on civil liberties, politics, technology, culture, policy, and commerce. Along with a monthly print distribution of 40,000, Reason.com attracts 4 million visits a month. Reason produces original videos that draw over 5 million views a month, as well as podcasts, live events, and more.
Our offices are located in Los Angeles and Washington, D.C. Together, our top-tier think tank and political and cultural magazine reach a diverse, influential audience, advancing the values of choice, individual freedom and limited government.
About the Position
Reason Foundation seeks a self-driven, organized, flexible, highly-motivated individual to support the organization on a variety of critical gaps and opportunities. The person in this position will work closely with the director of development and editor in chief, but will interact will all staff, including management.
Responsibilities
Oversee all aspects of Hiring, including:

Work with hiring manager and to develop job descriptions

Develop and execute marketing plan for positions

Screen resumes and conduct first interview

Create offer letters and work with candidates through offer process

Notify candidates who do not receive offers

On-boarding and Off-boarding:

Monitor completion of on-boarding tasks

Ensure required trainings are completed

Manage all equipment, software, and other needs for both processes

Events:

Assist with events in DC office, NYC, and editorial events;

Assist with logistics for conferences like LibertyCon, FreedomFest, etc.

Networking/ Coalition management:

Represent Reason to coalition groups including SFL, SPN, etc.

Promote Reason staff as speakers with coalition groups

Misc. Project/ Process Management:

Assist with management of DC office

Project management support for large projects, including annual webathon

Assist with staff travel and other administrative needs

Administrative support for editor-in-chief and director of development

Other projects that align with candidate's interests and skills and organizational needs
Qualifications/Competencies
0-3 years of experience required (internships may be considered experience) 

Demonstrated experience managing projects

Strong attention to detail

Excellent problem-solving skills

Strong oral and written communication skills

Proven relationship building skills

Strong organizational skills

Be flexible and comfortable with ambiguity

Self-motivated

Able to work with remote team

Able to make trade-offs between conflicting priorities

Committed to the mission of the Reason Foundation
How to Apply
Qualified candidates should submit the following application materials in one PDF document:
Resume

Cover Letter detailing your interest in the position/the mission of Reason and your salary requirements
Applications should be submitted to Talent Market via this link: 
https://talentmarket.org/candidates/apply-for-your-dream-job/ 
Questions can be directed to Katy Gambella, Network Engagement Manager of Talent Market, who is assisting with the search: [email protected].
While we thank all applicants in advance for their interest in this position, we are only able to contact those to whom we can offer an interview. Only direct applications will be considered. No phone calls, please.
Talent Market is a nonprofit entity dedicated to promoting liberty by helping free-market nonprofits identify talent for critical roles. We provide free consulting and recruiting services to free-market think tanks, policy organizations, research centers, and capacity-building institutions dedicated to advancing the principles of limited government and free enterprise.