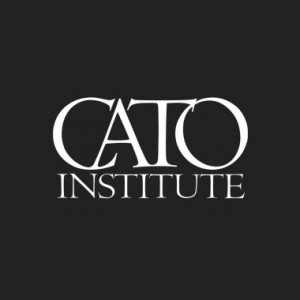 About the Cato Institute
The Cato Institute is a public policy research organization—a think tank—dedicated to the principles of individual liberty, limited government, free markets, and peace. Its scholars and analysts conduct independent, nonpartisan research on a wide range of policy issues. 
Founded in 1977, Cato owes its name to Cato's Letters, a series of essays published in 18th-century England that presented a vision of a society free from excessive government power. Those essays inspired the architects of the American Revolution. And the simple, timeless principles of that revolution – individual liberty, limited government, and free markets – turn out to be even more powerful in today's world of global markets and unprecedented access to information than Jefferson or Madison could have imagined. Social and economic freedom is not just the best policy for a free people, it is the indispensable framework for the future.
Cato Institute is an Equal Opportunity Employer.
About the Role
The Cato Institute seeks an entrepreneurial, highly motivated Development Manager to join a high-performing, mission-oriented development team in driving fundraising revenue for the organization. The ideal candidate will have 3-5 years of experience in fundraising with a proven track record and strong skills in fundraising strategy, development operations, communications, donor engagement, and internal stakeholder management. Applicable sales or account management experience will be considered. The candidate will have excellent communication and writing skills, impeccable attention to detail, and the ability to prioritize multiple tasks and meet deadlines. They must also have a strong affinity for public policy and Cato's mission.
This is an opportunity to manage critical elements of Cato's donor base as a crucial member of a dynamic development team. The Development Manager will be responsible for assisting in the implementation and execution of a plan to deliver an outstanding experience to Cato's community of sponsors, who come from every state in the country and share Cato's commitment to libertarian, free-market principles. There is tremendous potential to take on greater growth and leadership responsibilities as Cato's development team seeks to grow its sponsor community and $40+ million annual budget. This is a full-time in-office position located in Washington, DC. 
Responsibilities
Partner with Vice President of Development and Major Gift Officers to identify, cultivate, solicit, and steward gifts from new and existing sponsors in order to substantially increase Cato's base of donors and support.

 

Work with senior development staff to develop and implement a comprehensive and ambitious strategy for managing Cato's entry and mid-level giving programs; successful cultivation and stewardship of the $100 to $1,000 donor levels will result in potential to manage higher giving levels.

 

Design and execute a strategy for efficiently handling all inbound sponsor communications, providing a top-notch customer service experience and connecting sponsors with appropriate staff members as needed.
Manage and implement process for thanking Cato sponsors (including conducting thank you calls, emails, and follow-ups) in a timely manner; provide personalized and thoughtful gift acknowledgements.

 

Create and execute appropriate systems and procedures for researching and qualifying existing and prospective Cato sponsors; provide top quality donor research by synthesizing and analyzing information from a variety of database resources.

 

Manage and improve upon key processes for efficiently managing data entry in Salesforce.
Track and monitor key metrics across Cato's giving levels for development team in order to inform fundraising strategies and goals.
Design and implement personalized outreach plans and moves management processes across all donor levels to increase sponsors' involvement in Cato's mission.

 

Develop proposals and reports for individuals and foundations as needed.
Requirements
3-5 years of successful fundraising or equivalent sales experience

An entrepreneurially spirit that will drive projects involving colleagues throughout the organization

Ability to provide excellent customer service to Cato sponsors

Knowledge of and experience with proposal development

 

Outstanding communication, writing, and interpersonal skills

 

Ability to balance shifting and competing priorities and work well under pressure

Meticulous record-keeping skills

 

Understanding of fundraising metrics and analytics; proficient to advanced understanding of Excel

 

Willingness to travel occasionally

 

Experience using Salesforce (or similar CRM software) is preferred

Knowledge of "moves management" style of fundraising is preferred

 

Alignment with libertarian principles and Cato's mission
How to Apply
Qualified candidates should submit the following application materials in one PDF document:
Cover letter detailing your alignment with Cato's mission, how your experience has prepared you for this position, and your salary requirements

Résumé

Development/sales oriented writing sample (no more than 3 pages)
Applications should be submitted to Talent Market via this link: https://talentmarket.org/candidates/apply-for-your-dream-job/
Questions can be directed to Lydia Ocampo, Network Engagement Specialist, who is assisting with the search: [email protected]
There is no application deadline for this position. Applications are accepted on a rolling basis.
This job will remain posted on our site until it is filled. Only direct applications will be considered. No phone calls, please.
Talent Market is a nonprofit entity dedicated to promoting liberty by helping free-market nonprofits identify talent for critical roles. We provide free consulting and recruiting services to free-market think tanks, policy organizations, research centers, and capacity-building institutions dedicated to advancing the principles of limited government and free enterprise.